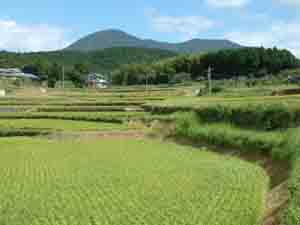 Mount Kouri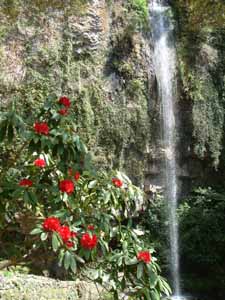 The waterfall gochouzu no takih

Creation fairy tale:The Tengu kid - Fuku chan
( Fuku chan who became the Tengu kid)
Written by Ueno brothers


Prologue:
for adults who will read this to children

According to ancient documentation, a priest of high virture in the Nara era named Gyouki founded a shrine on top of Mount Kouri (Note-1), located in Shigeida-cho, Omura City, Nagasaki-prefecture. The waterfall there, called Ochouzu (Note-2), was a place for exercise and training to the gods of the mountain shrine.

Some of these trained mountain ascetics had excellent and superior capabilities such as strength and unnatural jumping powers. The people of the town saw the special powers of the ascetics and said, gThey seem to be like Tenguh (Note-3), and thus a tradition of over 1000 years began.

In shigeida-town, there are geographic names related to this Tengu tradition, for example, gTengu Passh, gRed Rockh. Additionally, there is gThe rock where Tengu flew awayh, gRed Rockh, gTengufs footprint stoneh and gTengufs rockh, which are all natural stones.

The following creation myth, gThe Tengu Kidh is written in plain text so that children can understand easily. Although Fuku-chanfs childhood behavior is bothersome to the neighborhood, the focus is more on his transformation and reformation. Please kindly read this story to children as to make the original authors very please.


Thank you for your consideration.


Note-1: Mount Kouri is 826 meters above sea level

Note-2: The waterfall gochouzu no takih, also called gurami no takih, is a famous sightseeing spot. The waterfall is 30 meters high and through the year, 5,300 blossoms can be found there, including the alpine rose. Many agree that the view is breath-taking when the flowers are in full bloom.

Note-3: Tengu (a long nosed goblin) is a supernatural creature who lives in mountains.

His figure is that of a mountain priest/ascetic with a huge red face, long nose, and wings on his back.

Tengu have superior capabilities like strength and long-distance jumping. Recently, he has been compared to superman.