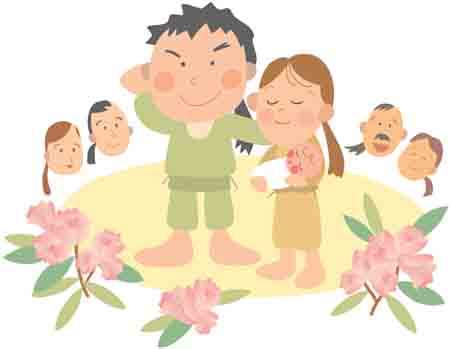 During his time away, Fuku chan had turned into a young man. His father and mother were pleased to see how he had grown up. As a family, they went to all of the villagers homes to apologize for Fuku chan's bad behavior as a child.

 The villagers warmly welcomed Fuku chan back and cried, "We're so proud that you turned out to be a fine young man"

 And in three years, Fuku chan turned into a real adult.

 As a man, Fuku-chan returned to Shigeida to ask Oshige, the girl who rescued him when he was injured, to be his wife. The young couple was congratulated by villagers in both Shigeida and Fukushige villages. As a way to thank the villagers, they planted many beautiful flowers around Ochuzu Waterfall.

 The waterfall was used to irrigate the fields, which helped the villagers produce rice and fruit.

 Soon, the couple had a child and lived happily ever after.