@Fuku chan spent the next year training in jumping long distances and also flying throughout the Shigeida mountain and valley region. Fuku chanfs favorite rock was a big, flat rock about 8 tatami mats in size, located on the river gSanagawachih.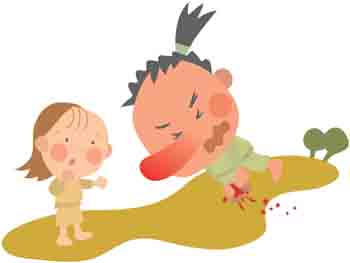 @But less than 10 days into his training, Fuku chan fell asleep on a rock because it was cool under the shade. He therefore missed a day a training and thus the deal he made with Priest Gyouki was broken.

@Fuku chanfs nose didnft return to normal, but he soon became used to it. He went back to his old ways of always playing, but now he did so by jumping and flying from big rocks. But one day he mis-stepped and hurt himself while jumping. Injured and with no one to turn to, he hid himself under a ledge by the side of a road.

@After a little while, a young girl named Oshige chan passed Fuku chan whimpering under the rock. She asked, gWhat happened to you?h and Fuku chan explained, gI hurt myself trying to jump and flyh. Oshige chan had a good heart and replied, gStay here, Ifll fetch my fatherh. Sure enough, she returned with two villagers to help injured Fuku chan back to the village. Oshigefs father allowed Fuku chan to stay in his house until this wounds healed.